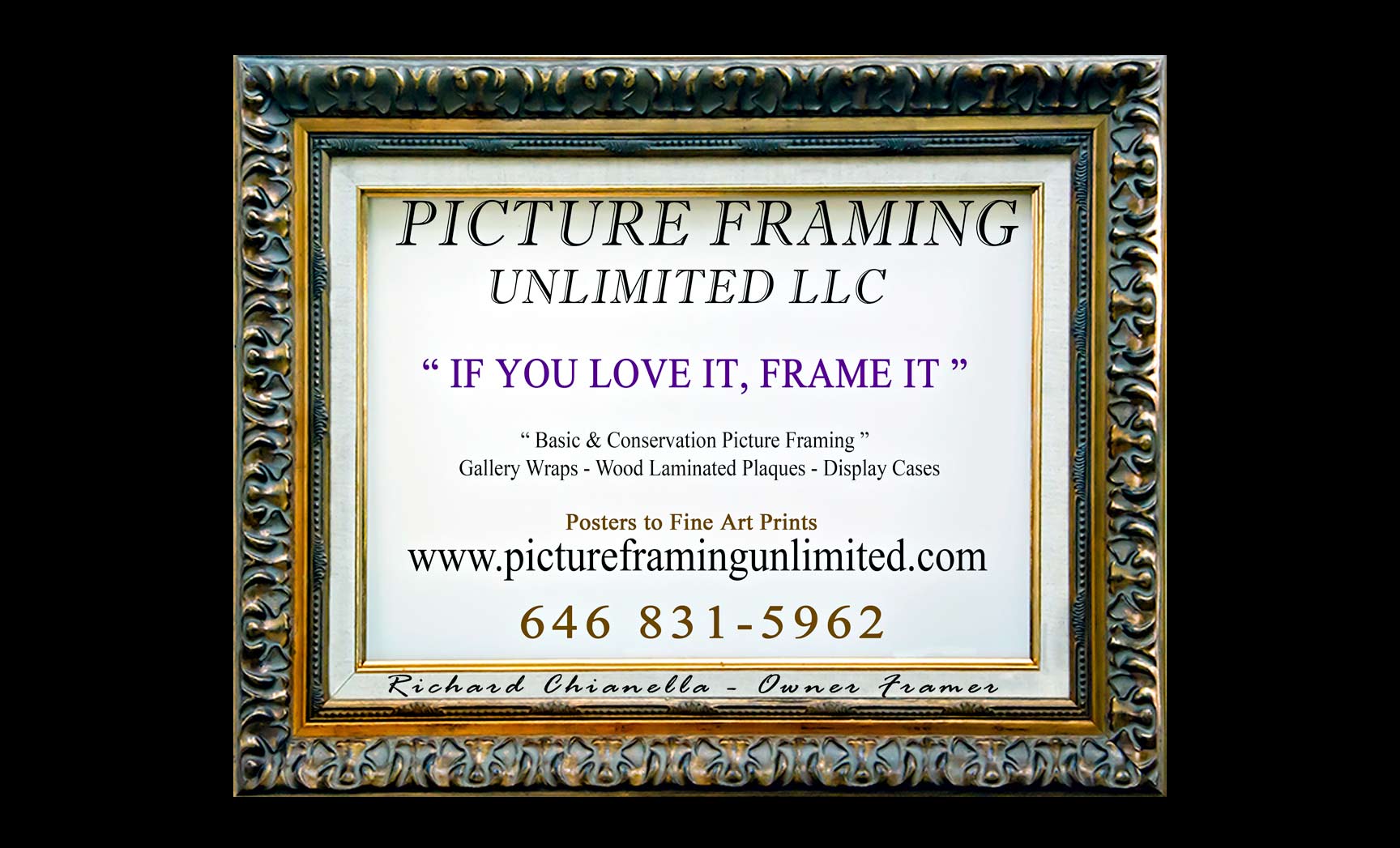 PICTURE FRAMING UNLIMITED LLC
646 831-5962
pictureframingunlimited@hotmail.com – www.facebook.com/richard.chianella.7
" IF YOU LOVE IT, FRAME IT "
Custom Picture Framing
Posters
Canvas
Fine Art Prints
Diplomas
Oil Paintings
Digital Photographs
Laminated Wood Plaques
Dry Mounting
Glass Replacement
Frame Replacement
Custom Framing for Hotels , Restaurants & all Commercial Establishments
Photo Gallery on Location
16″ Wide Format Printing – 17″ Wide Exhibition Canvas Printing
Premium Lustre Paper or Epson Exhibition Canvas Satin
Picture Framing Unlimited LLC uses only the best and finest materials in your custom frame design. We create a custom picture frame with a very wide selection of beautiful Wood and Metal frames as well as a wide color gamut of 4ply to 8ply matboard. Our selection includes Acid Free Matboard to Conservation Select Matboard and also Museum Grade Rag MatBoard. Fabric Matboard, Decorative Matboard and Suede Matboard are also used in the Custom frame design.We also use different types of glazing which includes Regular Glass as well as Non Glare Glass and UV Protection Glass. Regular, Non Glare and UV Plexiglass are also available. Many times we suggest using the Lightweight Plexiglass for larger pieces of artwork making the framed piece much lighter. 50% Deposit Required on large framing orders.
" Open Sundays Appointment Only "
" PU & Delivery if needed "
" Infinite Love & Gratitude "
" Please Call Ahead or Schedule an Appointment Today " – 646 831-5962
DIGITAL PHOTOGRAPHY UNLIMITED & PHOTOSHOP CLASSES!
On Going Classes Forever
Click on the Photography Classes Tab for more info! Thanks!